Marriage counselors all over the world will tell you one thing: communication is important in any loving relationship.  For any marriage to thrive, man and woman should learn to practice constant communication with each other.
A couple's morning talks should not revolve only around the latest peace and order situation in the country, but also on whether or not they should start buying interesting sex toys to spice up their sex life.  Any man and woman who love each other should feel comfortable talking about their sexual needs to their partner.
Issues on sex should not be swept under the rug.  In time, they will resurface and might cause even greater conflict.  If there's something you wish your partner would do, just say it.  We aren't mind-readers, so we must always communicate our wants and needs.  Don't assume that your partner should know you well enough to know what you want.  Words are there for a purpose.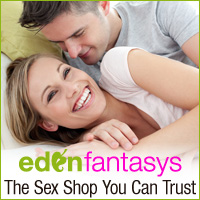 So, the next time you catch your hubby browsing through the pages of the EdenFantasys' website, don't give him heat for it.  Talk about his unspoken needs, and before you know it, you'll be on the road to a happier and healthier sex life.